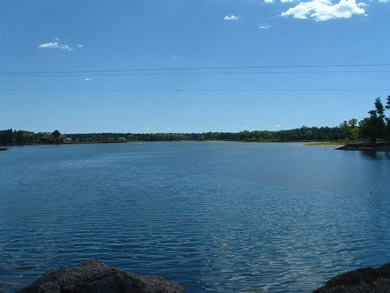 Above: Rainbow Lake from the bridge by the campgrounds
If you don't mind city camping, Lakeside Campground is a nice place to camp. The campground fills quickly during the summer months, but there are many campgrounds in the surrounding area such as; Fool Hollow or Show Low Lake. Boat rentals are available along the lake across the bridge and are almost needed to fish Rainbow Lake. The north and west ends of the lake support shore fishing but the remainder of the shoreline is weedy. After the spring thaw, fishing Rainbow has its rewards. Rainbow and brown trout, sunfish, largemouth bass, bluegill and channel catfish all inhabit the lake. It is not uncommon to see Bald Eagles during the winter months. There is a dump station available but no electric hookups. The only setback is that the campground virtually sits on the U.S. 260.

Directions
In Lakeside, the campground entrance is across the street from the ranger station on U.S. Highway 260.turn south on Niels Hansen road.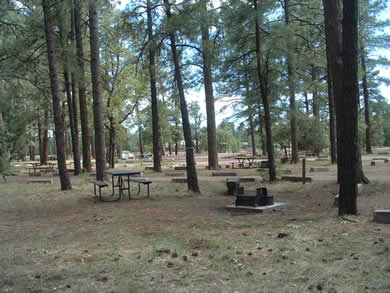 comments powered by