Woods Canyon Lake, the most popular camping area in the entire state, has much to offer. Virtually every amenity is either available on site or within a few miles. The Aspen Campground is set just 1/2 mile back from the lake and has 136 campsites all nicely spaced, you won't feel too crowded, even for such a large campground. The campground is well shaded by ponderosa pine, oak, aspen and douglas firs. Bring your bikes for a nice ride through the campground and maybe you will see some elk in the area. If this campground is full, try checking out Mogollon or Rim Campgrounds located just a mile or two away on FR300.
One good thing about Aspen if that there is an occupancy chart at the host/check-in station and will let you know what if any of the area campgrounds are full or not.
Located at the lake is a country store complete with boat rentals and a battery charging station for those who bring their own trolling motors. The store pretty much has everything you might need for a great camping trip. A phone is available at the front door of the store.
Just around the corner from the store is the Rocky Point day use area. There is a charge to use the parking area but it is minimal ($5.00 I think). There is good fishing down by Rocky Point and I tend to spend at least one afternoon there every visit.
Bald eagles have been nesting down towards the end of the Rocky Point day use area in the past few years and is occasionally roped off so the only way into the area is by boat.
Nearby Hiking
Woods Canyon Lake Trail surrounds the lake and makes for a nice but easy afternoon hike.
Click for a map of trails in the Black Mesa Ranger District
A dump station is located back up the road about 1 mile as you exit the Woods Canyon Recreation Area.
The Rim Visitors Information Center is located at the junction of the S. R. 260 and Rim Road.
Showers are located at Canyon Point Campground 5 miles east of the visitors center on S. R. 260. The charge for using the showers is $5.00.

Directions
From Payson, travel east on U.S. 260 until you reach the top of the Mogollon Rim and turn left on F. R. 300 (Rim Road). Travel west on Rim Road 3.4 miles to the Rec. Area entrance. Turn right at the entrance and travel 1.5 miles to the campground on the left. Don't forget to stop by the scenic stops along Rim Road for spectacular views of the Mogollon Rim and the valley below.
Campsite Panoramas - See each campsite at Aspen Campground.
Click a campsite number below to view a 360 degree panorama of that campsite.
3, 4, 5, 6, 7, 8, 9, 10, 11, 12, 13, 14, 15, 16, 17, 18, 19, 20, 21, 22, 23, 24, 25, 26, 27, 28, 29, 30, 31, 32, 33, 34, 35, 36, 37, 38, 39, 40, 41, 42, 43, 44, 45, 46, 47, 48, 49, 50, 51, 52, 53, 54, 55, 56, 57, 58, 59, 60, 61, 62, 63, 64, 65, 66, 67, 68, 69, 70, 71, 72, 73, 74, 75, 76, 77, 78, 79, 80, 81, 82, 83, 84, 85, 86, 87, 88, 89, 90, 91, 92, 93, 94, 95, 96, 97, 98, 99, 100, 101, 102, 103, 104, 105, 106, 107, 108, 109, 110, 111, 112, 113, 114, 115, 116, 117, 118, 119, 120, 121, 122, 123, 124, 125, 126, 127, 128, 129, 130, 131, 132, 133, 134, 135, 136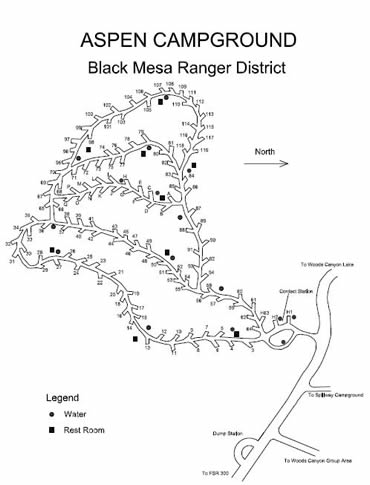 comments powered by