Located just outside the scenic town of Greer, Rolfe C. Hoyer Campground basically has everything you need to have a great camping trip except electric hookups. The facilities are first rate including:
Showers

Phone

Paved roads and pads

Close proximity to Greer Lakes and Little Colorado River

Dump Station

Amphitheater with Interpretative programs throughout the summer months

Nature hikes

Handicapped Facilities
The campgrounds are very well maintained and information on the Greer area or local fishing / hiking can be found at the camp entrance. Overflow camping is available at Benny Creek Campground located 1/2 mile north of Rolfe C. Hoyer.
Greer offers a few restaurants if you are tired of camping food, and the lakes just north of greer offer great fishing. Tunnel Reservoir, Bunch Reservoir and River Reservoir all are located across the main highway from the campground and are fed by the Little Colorado River. Fishing in the Little Colorado has its rewards also. Rainbow trout, brown trout and native apache trout swim these waters. Some larger trout have been caught in the river in the past few years.
Rolfe Hoyer Campground 360 Degree Campsite Panoramas
Click here for individual campsite panoramas

Directions
From Springerville, take the U.S. Highway 260 west to State Route 373. Turn left and drive 3.5 miles to the campground entrance.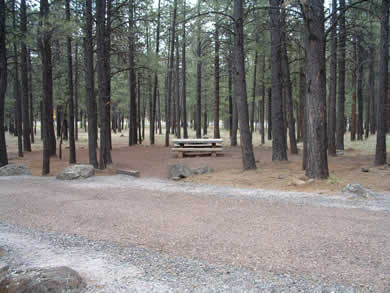 Above - A well maintained campsite waits for a camper at Rolfe C. Hoyer campground

comments powered by
Overall Rating
---
Available Amenities
---
Cleanliness
---
Fishing
---
Campsite Spacing
1- Tight 5- Spreadout
---
Camp Host
---
Good for Kids
---
Other Nearby Campgrounds
East/West Fork Black River Campgrounds
Diamond Rock
Aspen
Deer Creek
Raccoon
Horse Springs
Buffalo Crossing
West Fork

Alpine Area Campgrounds
Big Lake Area Campgrounds
Rainbow
Cutthroat
Grayling
Brook Char
Apache Trout

White Mountain Indian Reservation Capgrounds


Reservation Lake
Pacheta Lake
Drift Fence Lake
Sunrise Lake
Other